Preferred Software by Denturists
Specialized Office Systems produces and supports one product — proven practice management software that is specifically designed for denturists only. The result is an extremely easy to use no-compromise solution. DOMx will automate your billing and insurance submissions, organize your schedules, manage relationships and communication with patients, store clinical charting, digital imaging, and treatment planning while providing a fully integrated set of accounting and managerial business tools — all within a single piece of software that you can access from the office, the lab, home or anywhere else!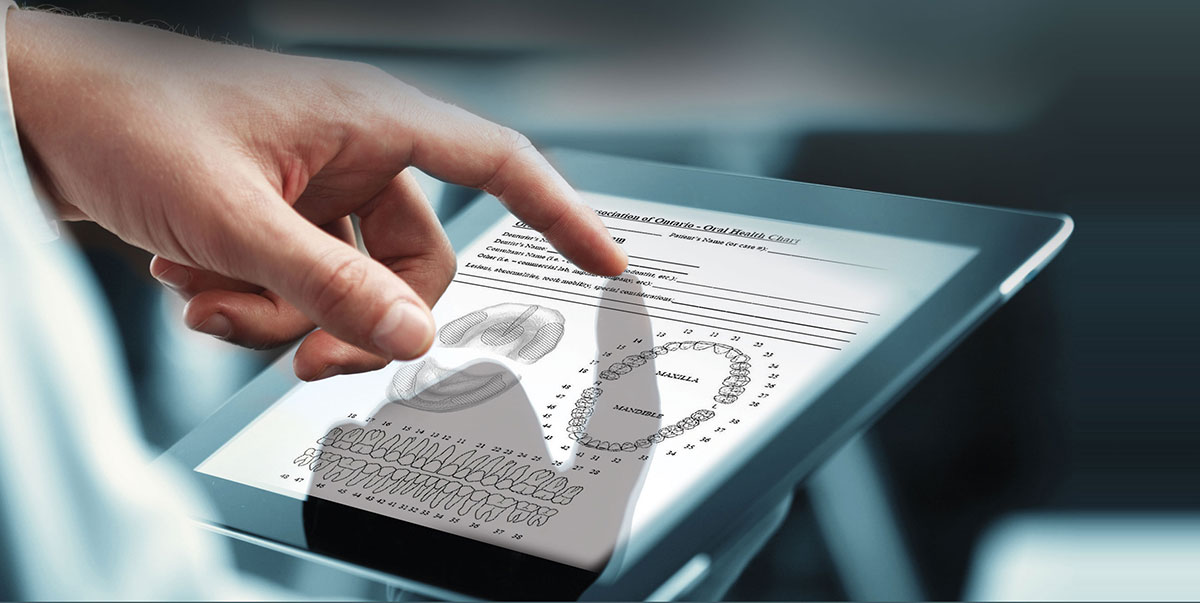 A well managed denturist clinic has the right tools to allow it to be efficient, sleek, and profitable. Business flow can be pleasurable and efficient. The DOM practice management software coupled with our experienced support staff can help you acquire new patients and retain the patients you do have for long term care. We can provide you with the tools to constantly measure, evaluate and improve your business processes. New denturists will especially benefit from our knowledgeable staff who have helped hundreds of denturists introduce proven office administration techniques.
Denturists who compare DOM to the competition invariably find DOM easier to use and more functionally relevant to their denturist practice. In a many cases, our clients were previously frustrated trying to use software produced by companies that service dentists and other health sectors. We have helped many self-described 'computer illiterate' clients streamline their office procedures using DOM.
If you're considering elevating your practice management, then the only way to truly evaluate what a software product can do for you is to ask us for a complete version to try in your denture clinic or at home at no charge to you.
You can expect to see the following features in your denturist practice management system as well as many more that are best explained and demonstrated to you by Specialized Office Systems staff over the telephone. Please contact us to schedule a guided tour.
Electronic Insurance Submission for denturists
Print Claim Forms Instantly
Updated Denturist Fee Guides
Professional Invoices & Receipts
Patient Clinical Charting & Digital Imaging
Detailed Patient Charting and clinical information specifically designed for denturists
Digital Imaging: before and after photos, exclusive image editing and manipulation tools completely integrated
Quotes
Implant & Prosthesis Planning
Appointment Scheduling and Lab Organizer
Appointment Lists and printouts for patients
Reminders and Posted special notes
Never lose track of patients with the most comprehensive set of recall tools for the denturist.
Form letters, Post Cards, Integrated Word Processing
Managerial Business Tools
Aged and Current Account Receivables
Daily Journal, Deposits, Discounts, Billing Summaries
External Marketing Strategies and Tracking
Internal Patient Relation Strategies and Tracking
Acquire
Acquire new patients and more business
We specialize in helping denturists become more profitable. We have worked with hundreds of denturist across Canada and the USA. We have an intimate knowledge of business models and efficient practice management approaches that work for the most successful denturist practices.
Complete practice management starts with having the right information to best reach your target market and increase your revenue. Denturists have unique requirements for the collaboration of client and business information — our software is purpose built to address these needs. Ask us how to use DOM to develop internal patient relationship management strategies and external marketing to acquire new patients.
Utilize the most extensive and flexible Patient Recall features available for denturists. We can show you how to create your own searches and we can recommend the most effective strategies to increase your income and provide optimal patient care. Recall lists can be merged into a form letter in a word processor of your choice or printed directly from DOM's own editor. You can create mailing labels, letters, post cards or phone lists.
Track outstanding treatment plans, quotes, pre-authorizations, reminders, and insurance claims! DOM will never let you loose track of any aspect of your business flow and patient care — leaving no loose ends.
Easy to use proven program — Our support specialists will guide you through every step of the way, with guaranteed results. You will find DOM to be not only the most powerful program for your denturist practice but also the easiest to use.

Retain
Cultivate patient retention with a comfortable office life and smooth administrative experiences
Retain patient loyalty. Office stress can negatively affect your patient's experience. The right software application can give you the tools you need to manage a profitable, efficient, and patient-centric office, while allowing you more time to focus on what you do best – working with your patients and producing great dentures. Professional looking quotes, invoices and receipts will boost your professional image and ultimately increase the patient's level of trust in your practice.
Electronic Billing means faster claim processing and payments. The ability to electronically submit claims will be more convenient, allow you to get paid faster and your patients will appreciate faster pre-authorization responses.
Oral Examinations, Prosthesis Planning, Odontograms, Digital Imaging, and Medical Histories (all specifically designed for the denturist), will give your practice a very professional and effective means to communicate to patients, dentists, and laboratories.
Measure
You can not improve what you do not measure
Implement a defined process that can be measured, tracked and benchmarked. We have worked with hundreds of denturists and have found that the same principles of success you read about for athletes, researchers, and business people hold true for denturists. The only difference for denturists are the Key Performance Indicators. In fact, the Key Performance Indicators for a denturist are quite different from even a dentist. DOM practice management software, along with our specialized support, will give you the tools to set and measure strategic objectives and performance targets most relevant for denturists.
Confidently move forward with the unlimited support from our help staff and we will be happy to guide you through every step of the way.
Use DOMx Anywhere
DOMx most unique feature is that it allows you to work entirely offline and synchronize changes later once a connection is made either through an internet connection or back in the office.
Have Questions?
We invite you to see for yourself with a free installation trial period and personal instruction. 1-855-494-0057
What our clients are saying
See how denturists are growing their practices
Ask your peers. Verify with your regional association. You'll quickly discover that our DOMx software product is by far the most preferred practice management software used by denturists across Canada and the USA.
Find out for yourself with a free trial & full training.